Ventnor
Ventnor is a charming Victorian coastal town at the south of the Isle of Wight protected by St. Boniface Down – the highest point on the island. This creates a micro-climate which encourages lush vegetation and varied wildlife and some of the UK's sunniest summers and mildest winters.
Bermuda House and Bayview are situated just above the centre of the Esplanade, Beach View Apartment is above the west of the Esplanade and Gills Cliff House is further west looking over Ventnor Park. The western esplanade has a part sand, part fine shingle beach, good for sunbathing and swimming with nearby pubs, cafés, amusements and paddling pool. The eastern promenade leads to Bonchurch, the Island's best preserved Victorian village much favoured by prominent Victorian literati. Charles Dickens wrote part of David Copperfield whilst staying at Bonchurch which he described as "The prettiest place I ever saw in my life, at home or abroad".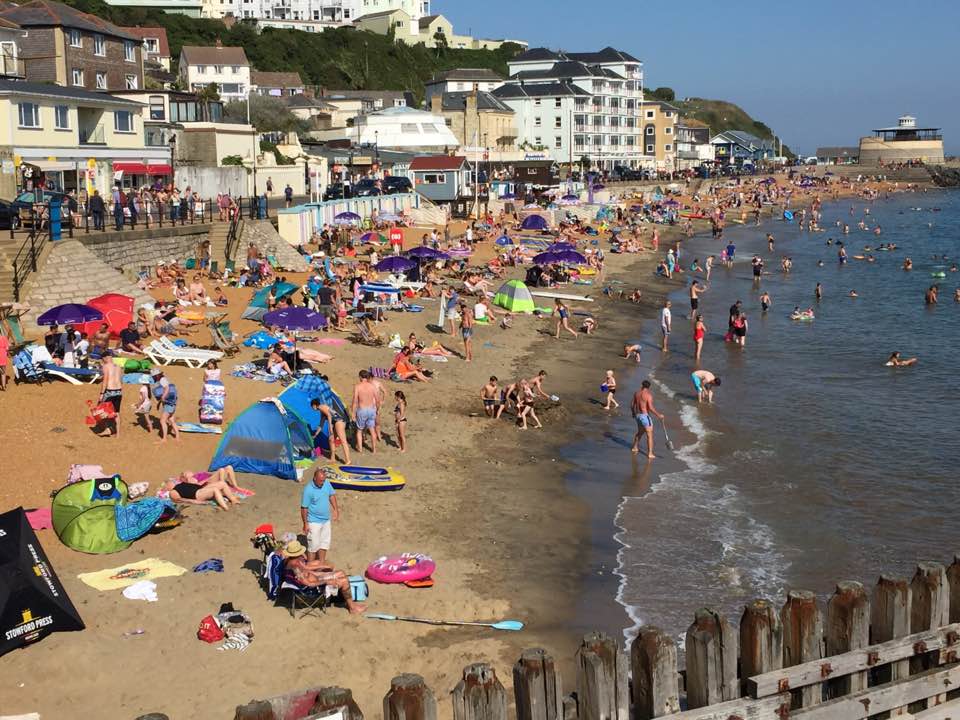 Ventnor Beach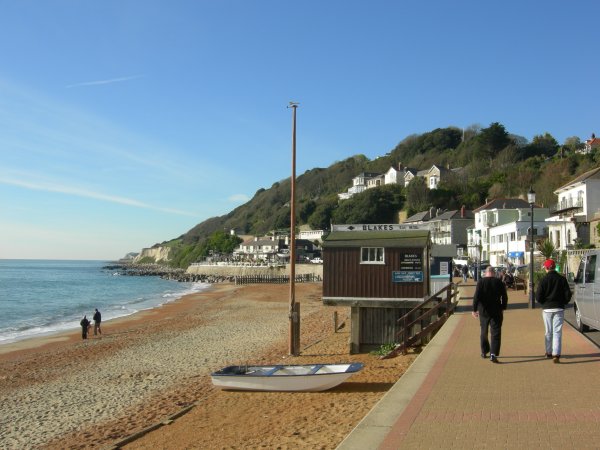 Ventnor Bay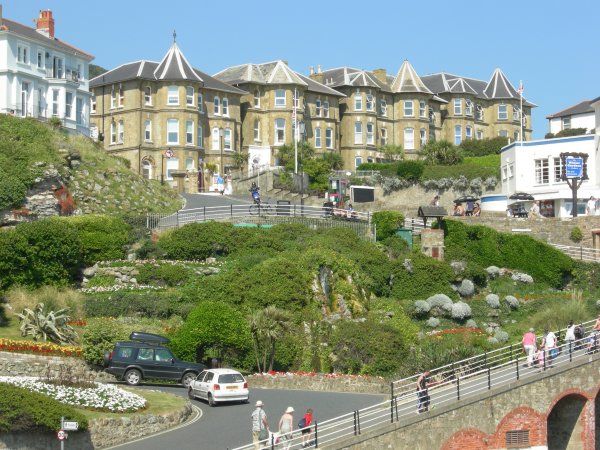 Ventnor Cascade
Shopping includes traditional butchers and delicatessen, greengrocers, handmade jewellery, hardware, toys, chemists, Post Office and a number of collectibles and antique shops, as well as a reasonable size Cooperative supermarket, Premier Convenience Store and a Tesco Express. There are two free cash dispensers in the town.
In Victorian times Ventnor became a fashionable holiday and health resort. Sir James Clark, Queen Victoria's doctor, endorsed the health-giving properties of Ventnor's climate."Nothing along the south coast will bear comparison with it" he enthused. The town is currently reinventing itself as a stylish destination with new residential development, luxury hotels, wine bars, a piano bar and a new harbour. It was recently listed as the 7th best coastal town in Britain in Coast magazine, and was described by BBC Radio Solent as the new Notting Hill.
Bermuda House, Beach View Apartment and Bayview look out over the award winning beach and new harbour, Ventnor Haven, which is for smaller craft and where fresh fish and seafood are landed and available daily. Crab and lobster are particularly recommended.
Things to do, places to go in Ventnor
St Boniface Down:
The highest point on the island, is reached by a footpath from the old railway station in Mitchell Avenue. The view is amazing, and once you're there you can walk over the downs to Shanklin or Appuldurcombe or walk back via the undercliff and Bonchurch. The top can also be reached by car from Down Lane on the right as you are leaving Ventnor on the Newport road.
Botanic Garden:
This is a pleasant walk away around the coast path and has exotic plants from around the world in themed gardens within a landscaped setting. The temperate house has many exotic species in a 'tropical' climate. A charge is made for admission.
More info ….
Steephill Cove:
This lies on the round-island coastal path, between Ventnor Bay and the Botanic Garden. Steephill remains a tranquil retreat with an appearance that has changed little with the centuries. It is still a working port, with crab and lobster fishermen bringing in their daily catch and the opportunity to sample it on the beach.
Longshoreman Museum:
Housed in a converted cottage on the Western Esplanade with a small personal collection of historical and nautical items.
Cascade and Paddling Pool:
on the cliff in front of
Bermuda House
and
Bayview
, a lovely garden with water (the former mill stream) tumbling down through it ending with an Isle of Wight shaped paddling pool on the Esplanade.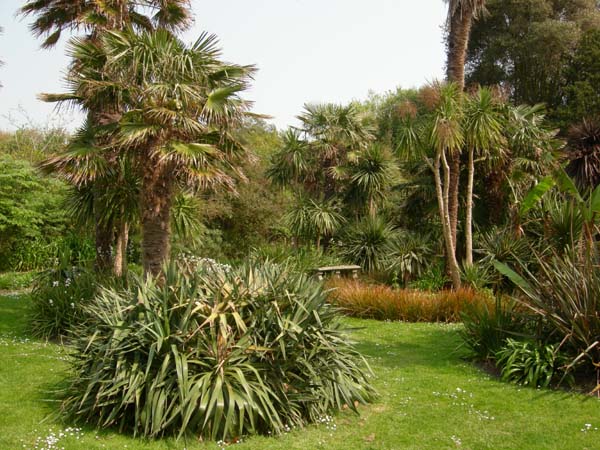 Botanic Gardens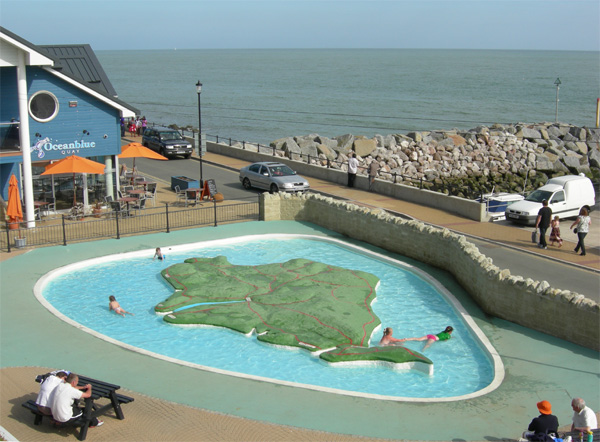 Paddling Pool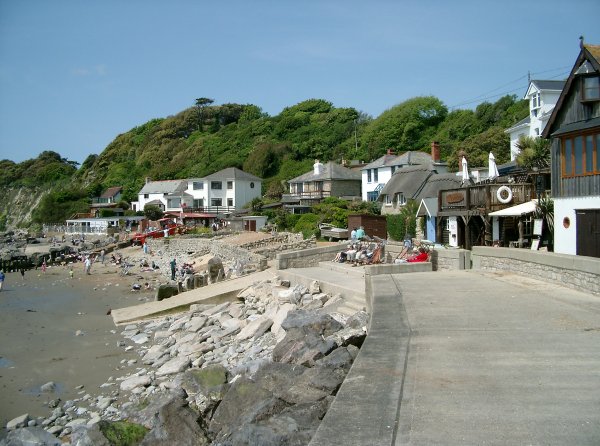 Steephill Cove
Boat trips:
Cheetah Marine operate boat trips in season along the coast by catamaran from Ventnor Haven harbour.
Ventnor Heritage Museum:
The Ventnor Heritage Museum in Spring Hill has displays of old photographs, prints, documents, and artefacts relating to Ventnor and district. There are also exhibits about the local railway with models (including one of the Mill which used to occupy the
Bermuda House
and
Bayview site
).
More info ….
Ventnor Park:
On Park Avenue, overlooked by
Gills Cliff House
, close to
Beach View Apartment
and about 10 minutes to the west of
Bermuda House
and
Bayview
. The park has a bandstand, which was originally at the end of Ventnor Pier, and Putting Green as well as the usual amenities.
Eating and Drinking
Due to the pandemic please check opening with the venue before making plans.
Ventnor is rapidly becoming a food destination of the island with a wide variety of places to eat and drink at a range of prices. Here is a small selection, all within walking distance of Bermuda House, Beach View Apartment, Gills Cliff House, High Street Suites 3 and Bayview:
The Spyglass
is on the Western Esplanade close to
Beach View Apartment
. It has pub food, real ales, nautical memorabilia and seating right on the shore. It is a pleasant place to spend a summer's afternoon or evening.
More info ….
The Smoking Lobster
is on the sea front and has a surprisingly inventive menu.  Recently voted the best restaurant on the Island. 
More info ….
The Bistro
on Pier Street, very close to
Bermuda House
and
Bayview
, serves local food prepared in front of you and often has interesting paintings on the wall.
More info ….
Cantina
, on the High Street near High Street Suites 3, is a friendly little restaurant with imaginative food.  Currently only open Friday – Sunday.
More info ….
Besty and Spinky's Blue Ocean Quay
is and friendly and stylish beach café on the Eastern Esplanade next to the paddling pool. Widely regarded as serving the best breakfasts in Ventnor.
The Royal Hotel
in Belgrave Road, close to
Beach View Apartment
is in the Michelin Guide and has a 2 AA rosettes bistro which is open to non-residents.
More info ….
Ventnor Winter Gardens
serves pub food and has a lovely view over Ventnor Bay. 
More info ….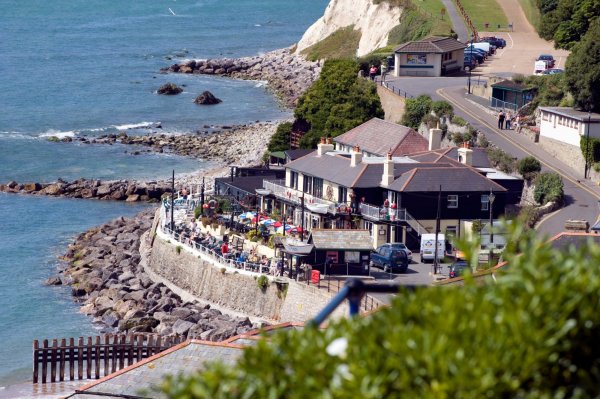 Spyglass Inn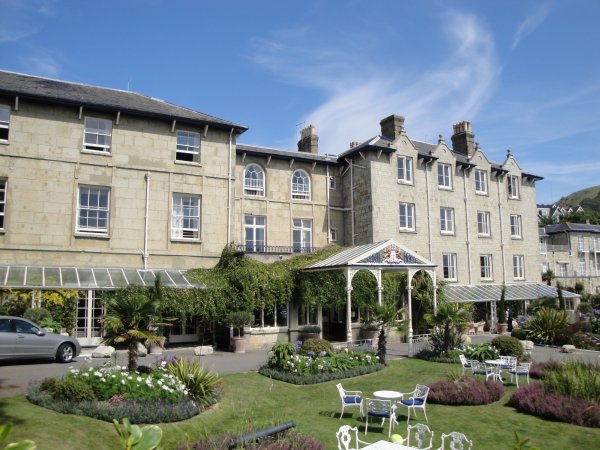 Royal Hotel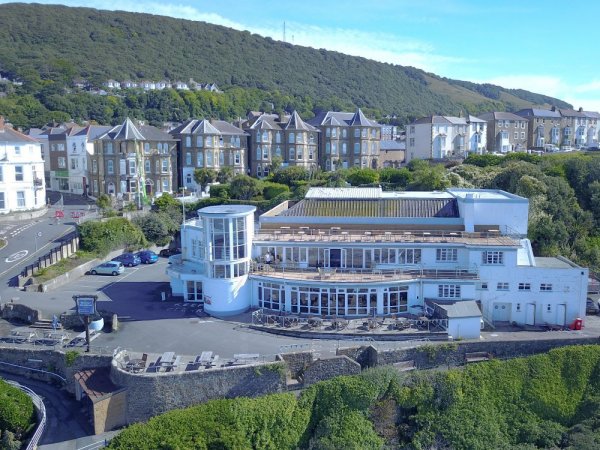 Ventnor Winter Gardens
Masala Bay
is also in Pier Street and is a large and popular Indian restaurant, who also do takeaways and deliveries.
More info ….
The New China House
in Church Street is a good value Chinese restaurant, who also do takeaway and delivery.
More info ….
The Rex Piano Bar
in Church Street serves Italian food in a pleasant atmosphere – the outdoor seating has breathtaking views – but the grand piano has been replaced by a digital keyboard.
More info ….